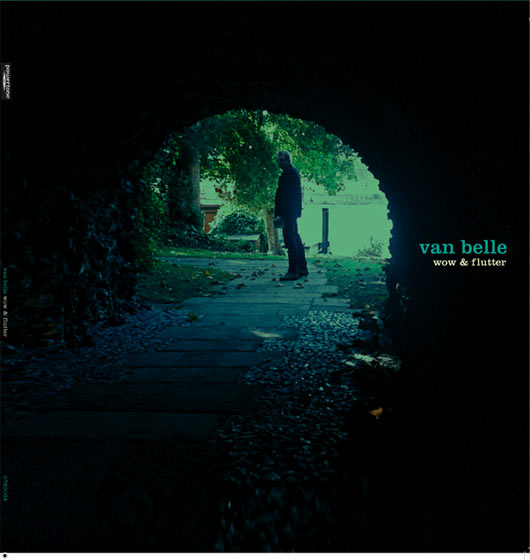 "I've been composing, recording and playing as long as I remember. As a kid I started recording on 2-track-tape and K7, soon followed by various dictaphones, computers, moviecams, sequencers, cameras, 4-8-16-24 analog reel to reel recorders.
In 1998 a first compilation of these early recordings was made: 11 CDs filled with an array of snippets, experiments and compositions recorded on a wide variety of locations (touring as a foh engineer) and studios while producing, arranging and mixing other artists albums.
In 1999 I left the Motormusic studios for a smaller location, where I started with recording engineer Peter Obbels on my solo album, while continuing my work as a producer for my Petrol label.
A second box with older tape recordings was opened, containing early tape echo, ping-pong and synthesizer-experiments, and anything from childhood piano playing to the Phillicorda organ I played in a rockband. The number of compilation CDs increased to 22.
Peter made a selection of material to work on. Then, by (re)writing, jamming and playing with drummer Karel De Backer and Elko Blijweert on guitar, compiling and editing, I finally ended up with compositions and songs. I asked partner in crime for years Marc Bonne to join on drums and to co-produce the album with Peter Obbels.
We all took our time to make the best sound possible.
As a kid I was kind of addicted to the orchestral work of Andrew Powell with Cockney Rebel, Kate Bush, Pilot, Alan Parsons Project … so in 2002 I sent him my work in progress.
I feel honoured that he connected to my music, accepted to write the arrangements and introduced me to both Jon Kelly -who mixed the album- and The London Chamber Orchestra (LCO), and that's how I finished my album in London. The final result is what I was dreaming of."
Wouter Van Belle, November 2005
Wow & Flutter

released in 2006  as double CD and double vinyl special edition

click here for full album credits

WOW A 1. Toveren  2. Maan 3. Groove 4. Comfort 5. Eiland Bambix 6. Piano op 1 nacht B 1. Koningin Waltz 2. Funky Funky part 1 3. Sterker… 4. Zon-Zon 5. Rock 'n Roll


music and lyrics by Wouter Van Belle 

except:

Sterker – music Van Belle & 

Marc Bonne / Maan – 

music and lyrics Joerie Cornille / Engelse les – Words Thomas Grey from 'Elegy in a Country Churchyard', and Lewis Carroll

FLUTTER
A
1. Railway
2. Kieslowski
3. Pacific    | video |
4. Myriam
5. Wat ga ik doen?
6. End
B
1. Parlando
2. SM. Koningin
3. Engelse Les
4. 1 Keer
5. Alles wat je wil!

Sleeve photographs Front: Peter Obbels – inside: Jef Van Belle – backside: Unknown
Artwork pre press: Sarah Wouters
Artwork: Daan Stuyven

Pre mastering & vocal coaching: Hans Jaspers
Mastering and Cutting by Tim Young at Metropolis London
'Vinyl' supervisor: Paul Van Der Jonckheid, Foon Lier
Co-produced by Peter Obbels and Marc Bonne
Produced by Wouter Van Belle
Publishing: Copyright controlP&C: 1972-2018 Wouter Van Belle / Powertone NV
Preproduction recording on: Dictaphones, Teac A3440 4-track, Akai 2-track deck, Philips tape deck with 'multiplay', Nagra SN, Sony DSR PD1 camera, Yamaha 4-track K7 deck, Hitachi K7 Deck, Akai S900 and Emu3 Sampler: Wouter Van Belle
Recording and editing on Studer A80 8-track analog recorder, Studer A800 24-track analog tape, Studer A800 16-Track analog tape, Otari Mtr100, Otari MX80, DAW's: Peter Obbels, Wouter Van Belle, Arthur De Kegel, Yannic Fonderie, Marc Bonne, Studio Powertone Haacht
Orchestra and Choir Recording: Jon Kelly at Abbey Road studios, London
Assistants in Abbey Road: Peter Obbels, Meric Styles, Arthur De Kegel
Mix: Jon Kelly, Studio Fabulous, and Astoria Studio
Piano tuning by Ronny Delwiche